About Us
A leading name in the field of industrial fabrication machinery, Team Engineering was established in the year 2011, and has since experienced a continuous growth and expansion of the company's business, all because of the customer centric approach and policies. Thanks to the guidance of our mentor Mr. Anandha Kumar, we have solidified our position as a noted Manufacturer and Supplier of machines such as Areca Leaf Plate Machine, Paper Plate Machine, Baling Press Machine, Dhoop Making Machines, as well as Raw Material for Making Silver Coated Paper Plate and Cup among others.

We keep the demands of customers as the blueprint for designing and assemblage of the machines we offer, which makes them tailor made to suit the variegated demands of clients and serve their purpose with greater efficiency, fully justifying their utility. Moreover, the stringent quality testing measures we undertake on both, the machines and raw materials we offer, are an added assurance from our end to make sure that only the best products reach our clients and create a visible positive change.

Quality Assurance

Unrivaled quality standards have been the hallmark of machines and raw materials offered by Team Engineering and we have only elevated them to even higher levels in the years that unfolded since our foundation. Our main objective is to satisfy our customers and loyal clientele through world class products, that can outrun those offered by our contemporaries in terms of raw performance and efficiency. With the goal of achieving further acclaim and the recognition, we utilize only the best grade raw materials and components in fabrication process, after which the finished products are tested for the following parameters to make sure that they truly excel:

Loading capacity
Efficiency
Power consumption
Functioning
Construction
Infrastructure

We boast a well equipped fabrication facility that is accoutered with precision calibrated machines and production tools, and is a sprawling infrastructure that is spread over a large land area, replete with an innate safety protocol and centralized power distribution channel. Moreover, for better work flow, the unit has been subdivided into a number of subsidiary departments that work in tandem with each other,and are mentioned below:

Manufacturing
Warehousing and packaging
In-house testing
R&D
Sale And Marketing
Administrative
Customer Satisfaction

Satisfaction of consumers has always been the top priority of our company's operations and we leave no stone unturned in ensuring that all the fronts of product quality such as energy efficiency, net performance and functional life are intact. In order to achieve such high levels of perfection, we perform a comprehensive analysis of the market and make note of the specific demands pertaining to the features customers want in their products, which are further implemented in the assemblage process. This customer centric approach has enabled us to address the demands of customers with high levels of success, and consequently, made us a preferred choice of customers across the domain.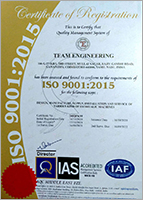 Read More